When dining-in was banned as part of the circuit breaker measures, many in the food and beverage (F&B) industry suffered huge blows.
In the latest figures released by the Singapore Department of Statistics (June 5 2020), total F&B sales dropped some 53 percent in April 2020 as compared to the same period in the previous year. The restaurant industry, in particular, saw a steep year-on-year fall of 66.9 percent.
As the country transitions from the circuit breaker to a three-phase plan for gradual re-opening, dining in will soon be allowed as part of the country's Phase 2 measures.
Catching up over a meal will finally be possible, but only in groups of no more than five. Social distancing will also have to be observed, and more regulations are expected to be announced closer to the date, which some say could happen before the end of June.
Restaurants and F&B owners across the country are all busy preparing to reopen their doors, eager to greet hungry diners again.
This could mean spending extra effort reconfiguring seating arrangements and swapping out physical menus for digital ones. As Spa Esprit's founder Cynthia Chua points out: "A place is never the same without the spirit of the people."
And beyond the existing rules in place by the local government, restaurateur Adam Chen is also taking cues from other countries.
"We can take lead from countries that have opened up, especially Hong Kong," he says. "There, tables are set wide apart and there are screens in place." He will be sourcing for partition screens across his food establishments, which includes Five Bar, Ikki Izakaya, and newly opened Ebisu Bowls.
"The mandatory spacing between tables might be even more comfortable for diners," he adds.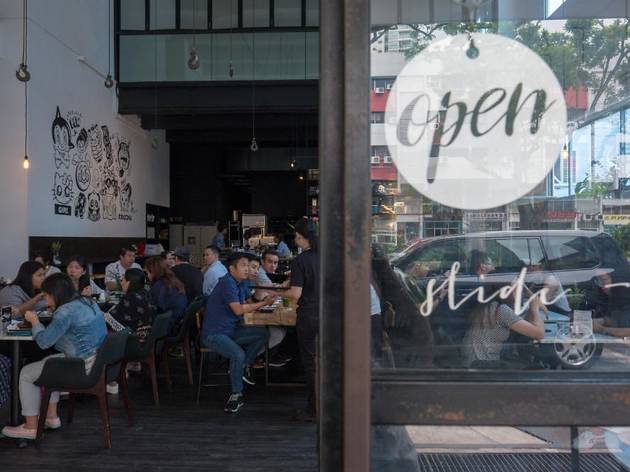 Photograph: Mindy Tan/ Singapore Tourism Board
However, not all businesses are quick to celebrate the return of dine-in customers.
As the owner of The Refinery, Colin Chen points out, there are multiple considerations to keep in mind. For one, the limit on dining groups and social distancing rules means that his restaurant's original capacity is essentially halved.
"For me, running a service for 30 pax or 70 pax is pretty much the same in terms of my manpower cost," says Colin. Moreover, the restaurant has taken time in the past two months to set up its delivery system – from workflow to manpower arrangements. Tables that used to seat customers are now used as cashier and pick-up points for delivery riders.
"We are now more optimised for delivery," he shares. "But when you can only operate at 30 to 50 percent capacity, suddenly we need to have that conversation again to see if it would be worth it to offer dine-in."
He adds: "Suddenly, dining-in doesn't seem like a feasible option for us in the short run."
For restaurants that offer a communal dining experience, the cap of having no more than five people at a table is also a factor to consider.
"We feel that customers might continue to opt for delivery of takeaway options," notes a spokesperson from the Crystal Jade Group. With all the rules in place, eating out in restaurants can become almost functional, rather than convivial. The spokesperson says: "Customers may likely dine in their own homes instead since the duration of dining in restaurants will be kept to a minimum."
Pang Seng Meng, the co-founder of New Ubin Seafood, echoes a similar sentiment.
"Communal dining will be severely restricted as part of the new normal," he says. Instead, the local zi char chain is focusing its efforts on UbinEats, a special menu that caters to solo diners.
"Phase 2 will be challenging for us as we are a communal dining operation," he adds. "And we will need to decide whether we should open for dine-in or continue to focus our efforts on delivery."
"But when you can only operate at 30 to 50 percent capacity, suddenly we need to have that conversation again to see if it would be worth it to offer dine-in."
– Colin Chen, founder of The Refinery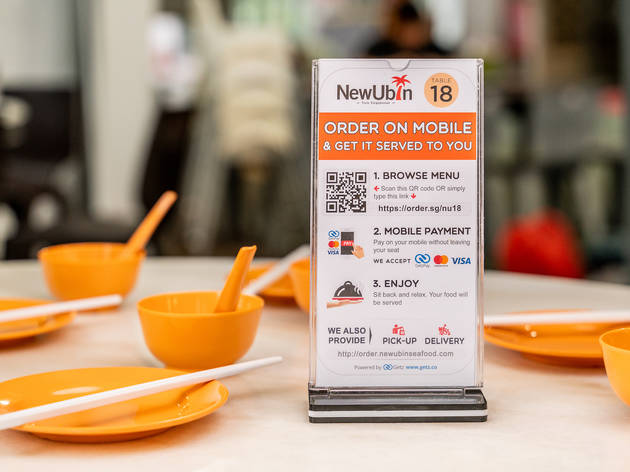 Photograph: New Ubin
In the meantime, New Ubin is ramping up its digital infrastructure in preparation for opening up to the dine-in crowd. Over at its Tampines outlet, a QR code ordering system is already in place, and the zi char chain plans to implement it across all other New Ubin's other outlets.
Similarly, mobile payment solutions YQueue found that mobile orders have "increased tremendously" during this period. Through the company's research, chief strategic partnership officer Damian Sim notes that many businesses that previously rejected e-solutions are now adopting these online services.
Self-ordering kiosks could be useful in reducing human contact too, says Damian, and his company has in place measures to coat payment kiosks with a self-disinfecting agent to alleviate safety concerns.
Adam from Ebisu Bowls agrees. "Digital menus and going cashless will help lower manpower allocation and reduce contact – and that will be a plus point moving forward," he says.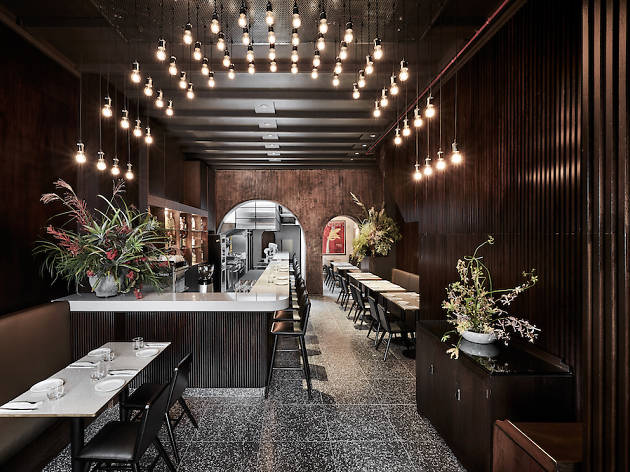 Photograph: Bar Cicheti
But the new landscape poses uncharted challenges for many F&B owners.
"The measures [in place] will change the way we serve and interact with our guests, and the smaller tables will mean that we have to work with more orders and faster turning of tables in order to sustain our business," says Teo Shi Kai from The Blue Ginger.
He adds: "As much as I would like business to return to normal in Phase 2, there will definitely be a period of adjustment before we settle into the new normal."
Staff have to be doubly attentive, since the reconfiguration of space to accommodate social distancing leads to fewer customers, says Wong Yan Ni, marketing and communications executive for Awfully Chocolate and Sinpopo Brand. A longer waiting time could potentially arise with the limited seating too, she says, and recommends putting in a reservation prior.
Over at Tiong Bahru Bakery, special care has also been placed to reduce interaction even among staff members. The chef de cuisine is not allowed to rotate between various outlets, so the manpower allocation has to be rostered accordingly.
"There will be less capacity. It will be less buzzy especially for bistros or casual dining where the noise, ambience, people, and crowds are all part of the full experience. It will be a gradual comeback but I foresee it will be like that for some time," shares Cynthia.
To that end, the company is staying nimble and reactive to change. "Shorter menus and more clever use of ingredients to reduce cost are key," she says. Its farm-to-table concept, Open farm Community, offers fresh vegetables and housemade pickles from the restaurant's garden, on top of its usual cooked food. Cynthia explains: "We will have to be innovative to keep tweaking and search for new revenue streams that can make up for the shortfall."
Liling Ong from The Cicheti Group predicts that cleanliness will become a shared responsibility between both F&B outlets and diners. "Expect to see more considered spacing between tables, and a greater awareness for general personal hygiene," notes Liling. "People might head to the toilet to blow their noses or try not to cough at the table with friends."
On the restaurants' end, which includes Cicheti, Bar Cicheti, and Caffe Cicheti, enhanced hygiene protocols will be put in place. There will be wider usage of alcohol wipes and hand sanitiser across the outlets. Cutlery will also only be brought up when guests have settled down to reduce contamination.
"I think this will quickly be a new norm and I'm fine with that. There's nothing wrong with moving towards a more considerate and hygienic dining environment," she says.
"A key challenge during Phase 2 will be the need to stay flexible and pivot between the phases depending on the spread of the virus."
"There will be less capacity. It will be less buzzy especially for bistros or casual dining where the noise, ambience, people, and crowds are all part of the full experience. It will be a gradual comeback but I foresee it will be like that for some time."
– Cynthia Chua, founder of Spa Esprit Group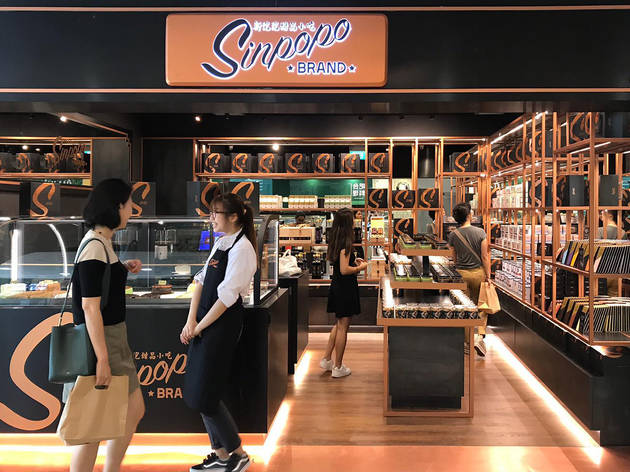 Photograph: Sinpopo Brand
An irreplaceable experience
Despite trepidations for the future, most F&B owners agree that allowing people to dine out is an important one.
"Real F&B is a combination of ambience, food, and service … you cannot replicate these with a screen," says Adam. "One thing I definitely miss is the real bustle of a busy restaurant."
"Dining in isn't just a static affair of consuming food; it is in the little moments that make up the entire dining experience," says Catherine Fong, managing director of Lè Fusion. "I think everyone misses gatherings and get-togethers."
It is this very reason that many in the industry remain confident in the future of the F&B industry – despite the multiple rules and uncertainty in place that has dramatically shaken up the way people eat.
Cynthia says: "To be able to go out and enjoy a meal and soak up some of the energy serves as a gentle reminder that life will soon be back on track and will be a chink of light for all of us."